Style GuideClothing choices will help you make the most of your family portrait session.

Clothing choices can be tricky but with some simple tips its easy to create timeless family photographs.
When choosing clothing colours consider your home decor!

If your planning on hanging your photos in a lounge room that's mainly light colours you don't want to be in dark colours, however if your home is a little more colourful then you may wear more vivid colours. Think complimentary colours to your decor, you don't want an exact match.

All dress for the same season.

Keep warm/cool during the session no one wants to shiver or sweat during the session.Dressing for the season allows you not only to be comfortable during the session, but to fit together as a family group.

Dress for comfort.

If you feel good, you'll look good. Freedom of movement is a must. Check the stretch test. Try leaning forward, sitting, squaring, etc. Clothing should be easy to move in so you can play with your children during the session (think aeroplanes, tickles and hanging upside down).

Don't forget the shoes!

Often the forgotten element, but can make or break your outfit. We often photograph families bare footed especially children. Ankle boots often work well.

Layers and Accessories and Textures.

Scarves, belts, jewellery, cardigans, jackets, blazers. Quickly elevate an average outfit, and make adding pops of colour easily. Use fabric to add texture for your outfit, think lace, wool, tulle, etc.
Quick tips
Muted colours work best. replace bright yellow with mustard, red with burgundy.
Avoid bright whites, cream or off white works better.
Put most of the family in different neutral shades like grey, beige, cream then add pops of co-ordinating colours.
Avoid black and too much dark shades of colours as this tends to darken the overall feel of your portraits.
Start with Mums outfit and add from there.
Use colours from the same tonal range, they don't have to be an exact match.
Solid colours work best for timeless portraits.
Pops of patterns can look great, think florals paired with neutral shades.
Use layers to add textures like chunky knits, lace, tulle.
Keep foot ware simple avoid sneakers (runners)
Your style should match your surrounds. Formal wear in a park is reserved for weddings only.
Wear properly fitting clothing, not too baggy or too tight. Women show your shape and dress for balance between the upper and lower half i.e flowy shirt with skinny jeans/pants, fitted shirt with flowy long skirt.
Classic is classy! Trends will date your portraits more then anything.
Colour palette guide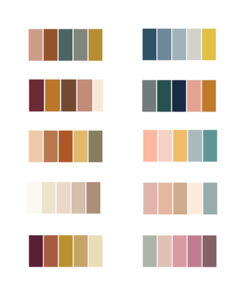 Mum say yes to
Maxi & Midi dress
A- line dress and coats
Fitted tops with long skirts
cardigan, jacket or blazer over fitted shirt
skinny jeans with flowy top/shirt
Accessories
ankle boots, ballet flats, heels if you can still play in them
Say no to
Dark colours
short shirts and low jeans
above knee length dresses
low cut shirts or baggy clothing
strapless/ sleeveless tops unless you love your arms
Dad say yes to
slim fit jeans, chinos pants or shorts depending on season
leather shoes, boots, converse or similar
shirts long sleeve rolled to elbows or short sleeve untucked
knit jumpers or cardigans over shirts.
plain T-shirts no motifs or logos
Say no to
small print
formal shirts
baggy pants/cargos
singlet tops
track suit pants/sneakers